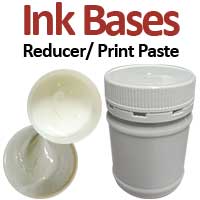 Clear Base | Print Paste | Reducer | Add your own tints/ powders/ oxides | Standard & Supercover
Fabric ink base, also called Print Paste or Reducer, for mixing your own colours/ oxides/tints.
Also suitable for thinning down inks without diluting the ink structure - therefore print adherence & wearability.
Waterbased - easy clean up
- Soft touch results
- Low odour
- Solvent free
- Environmentally friendly
Professional print adhesion - suitable for 100% cotton and 100% polyester without need for additives.
Standard base dries clear.
Supercover ink dries slightly milky onto black fabric.