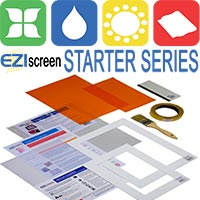 EZIscreen Starter Series for Stencil/ Freehand, T-shirts, Canvas, Ceramic, Metal/ Glass/ Plastic
Samples, tests and one off jobs do not require much equipment (or cost), the Starter Series are simple kits that allow you to add your designs and inks/ paints to begin printing quickly, with quality and at low cost.
Beginners Equipment
Starter Series kits contain the core equipment to begin - SPO film, artwork transparency & exposure accessories, aimed at specific uses to begin across a wide range of applications. Just add your inks/ paints to begin.
Note: Your ink/ paint must be suitable for material and application. Always perform a test before production.
Low Cost
Screens are made quickly using sunlight and water for exposure, eliminating the time consuming exposure or stencil cutting costs for short run applications.
Expand as required
Start small, then add additional frames, squeegee and inks to expand your applications, turn a Stencil Kit into a printing kit by adding a squeegee and frame, turn a fabric starter into a ceramics kit, etc.