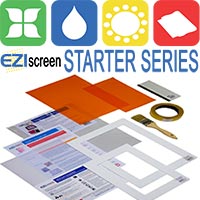 EZIscreen Printing Series Stencilling | T-shirts Light & Dark | Fabrics | Paper | Ceramics
Starter Series are kits that allow you to add your designs and inks/ paints to begin printing quickly, with quality and at low cost.
This is where you start with a few designs to print immediately, possibly a few more to come shortly, yet do not need all the equipment for a wide range of applications straight away, or your budget is limited.
Supplied with inks and expanding upon the EZIscreen Starter Series, EZIscreen Printing Series kits contain equipment required to begin printing straight out of the box.
Expand applications
With the right equipment, printing fabrics and ceramics is identical excluding the ink your printing. As long as you have the right equipment for your printing application you can easily and quickly change applications by just changing your ink/ paints. 'Off Contact' equipment can also be used for direct printing, simply remove the height adjusters from under the frame.
Print multiple colours
EZIscreen Printing Series can be expanded into multi colour printing by adding a jig/ carousel.